Refugee Startups Refine their Business Ideas through the REInvest Program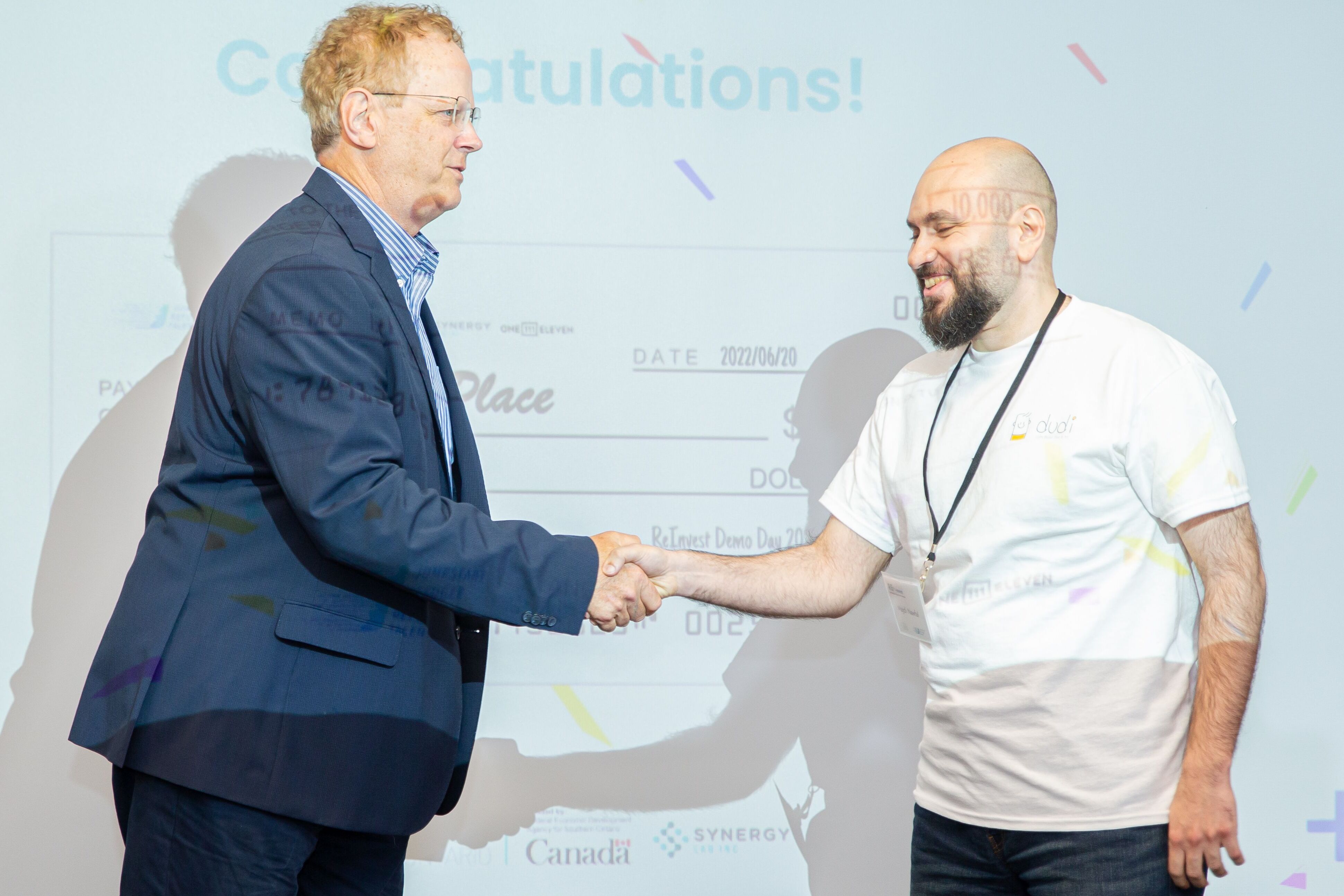 ReInvest 2022 Helped Refugee Entrepreneurs Develop their Businesses
In the spring of 2022, Angel Investors Ontario collaborated with Jumpstart Refugee Talent to deliver the second edition of the ReInvest program. The program connects refugee entrepreneurs with angel investors, and provides the entrepreneurs with training and mentorship leading up to the Demo Day which took place on World Refugee Day.
We wanted to catchup with one of our finalists, Majdi Nawfal, to see how the program has impacted his startup, Dudi's Invitation and find out what he is currently working on as a result of participating in the REinvest program.
About Majdi Nawfal: Learning Web Development from the Ground Up
Majdi Nawfal came from Syria in 2017 as part of the biggest wave of refugees to come to Canada. Early on in his arrival to Canada, he enrolled in the Web Development program at Humber College, and Dudi's Invitation began as a way to implement what he was learning at the time.
Dudi's Invitation operates as an eco-friendly solution for parties which allows users to invite guests and give monetary gifts, while minimizing waste in the areas of printed invitations as well as waste from receiving unwanted gifts. Instead, users send virtual invitations and can accept monetary gifts so they can buy exactly what they need.
The ReInvest program offered Majdi the chance to receive feedback on his idea from angel investors, in addition to attending workshops by other professionals in the innovation ecosystem.
REinvest Demo Day: A Chance for Participants to Shine
On Monday, June 20th, World Refugee Day, five startups from the program were selected to present their ideas to a panel of judges at the OneEleven venue. For Majdi, it was his first time pitching in front of a live audience. He was thrilled to find out that Dudi's had won second place, which resulted in a prize of $10,000 to further develop his idea. The prizes were donated in-kind by sponsors of Angel Investors Ontario, and were generously matched by the Northpine Foundation.
The experience of showing his idea in public, combined with the feedback from angel investors and lessons learned in the workshops helped give him ideas for making critical updates to the app and develop new features.
One of these features is devoted to giving back: Users can allocate part of the money they receive in gifts to be sent as a donation to organizations that support refugees in Canada. Majdi wanted to pay it forward after remembering something his sponsors told him when he first arrived to Canada.
What's Next for Dudi's Invitation
Currently, Majdi handles the web and business development for the business while his wife Maria Adas handles marketing and customer service.
In December 2022, they came in first place at the Ideation Lab competition organized by ICUBE which took place at the University of Toronto, Mississauga campus.
The experience of participating in these events has provided Majdi the support, encouragement and network to keep working at his concept and finding a product market fit.
Advice for New Founders
Majdi says that "the best way to start is to start". Applying to the REinvest program was a first step in helping to develop his idea and has opened all kinds of opportunities for his business idea. He also reminds newcomers to Canada to always be working on your connections as he has experienced first-hand the helpful nature of Canadians in the startup ecosystem.
How You can Help Young Entrepreneurs This Year
Angel investing can be a great way to connect with entrepreneurs from all walks of life, including newcomers like Majdi. Joining an angel group offers opportunities to help, mentor and support founders on their journey from idea through to thriving business right here in Ontario.
Find your nearest angel group here and make a request to attend an investment meeting through our website today.