Quant Interpretations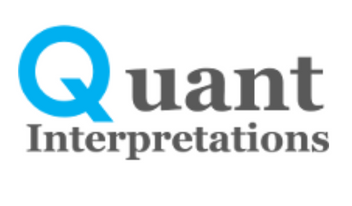 Quant Interpretations Inc. Rapidly Wins Early-Stage Financing from Local Angel Investors
January 2012 

Members of the Angel One Investor Network (Angel One) contributed a first tranche of capital investment totalling $160,000 in Quant Interpretations Inc., an innovative market intelligence company that is developing a suite of online consumer intelligence report tools to businesses. The funding will go toward the growth of the company and market penetration.
To achieve accurate and timely market intelligence, one must allocate considerable resources and time. Significant inefficiencies and limitations exist for both large and small Canadian companies in this regard, and these commonly result in missed opportunities and poor decision-making.
Requiring just seconds, Quant's patent pending online services automate the market intelligence process and instantly generate interpreted, easy-to-read profiles of target markets and preferred clients; intelligence needed to attract new customers, retain existing customers, develop new products and services, optimize site locations, and improve overall sales and profitability performance. 
By digitizing the conduct of market research, Quant will help organizations access deep information about their customers in less time without compromising quality.
"Quant Interpretations has taken our members by storm. The company presented to Angel One members on November 2, and closed its first round with members shortly after, with more investors lined up to participate in the next round. Angel One is delighted to be able to bring this type of quality opportunity to its members," says Karen Grant, Angel One's Executive Director.
Quant founder Brad Ross stated, "The Angel One investors are bringing so much more to us than just funds. We have been introduced to new sales opportunities that we would otherwise not have accessed at this stage on our own. The partnership will play a key role in achieving our expected growth."
ABOUT QUANT
Quant is dedicated to improving the productivity and performance of Canadian companies by improving the speed and accuracy at which they receive market data for use in key business decisions. Quant is the recipient of two regional awards: Grand Prize at Hamilton's Innovation Night on April 13, 2011 and Finalist in the 2011 Lion's Lair competition in Hamilton, Ontario, conducted by the Hamilton Chamber of Commerce and the Innovation Factory.