Jumpstart Refugee Talent and Angel Investors Ontario Launch REInvest Mentorship Program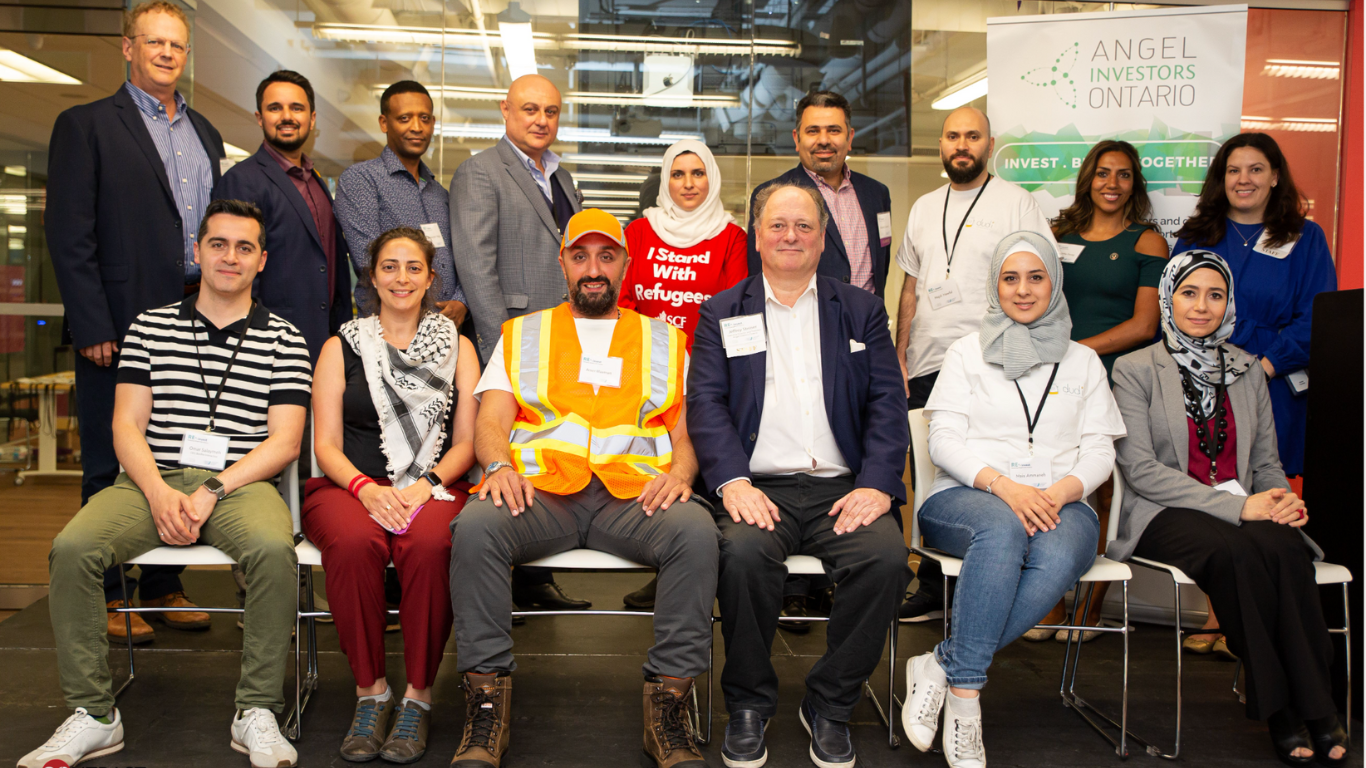 Jumpstart Refugee Talent and Angel Investors Ontario launch REinvest, an innovative program aiming to address funding barriers faced by refugee entrepreneurs. Now on its second edition, REinvest gives refugees the chance to pitch directly to a panel of angel investors. Applications for startups are now being accepted through Jumpstart Refugee Talent's website.
Newcomer entrepreneurs in Canada often face numerous barriers – including accessing resources, understanding the Canadian market, building their network, marketing and presenting their businesses, credit lending, friend and family net-worth, ability to bootstrap, access to advisors and experts and funding for their startup.  REinvest, a partnership between Angel Investors Ontario and Jumpstart Refugee Talent, will support refugee entrepreneurs in addressing these barriers.
Persistence, risk tolerance, decisiveness, adaptability, innovation, and comfort with failure are 6 of the 10 characteristics of successful entrepreneurs according to Harvard Business School. These are the exact same characteristics and skills refugees and entrepreneurs have utilized for years to survive and prosper before resettling to Canada. The educational series of events is designed for refugees with innovative businesses or business ideas. Participants will have the opportunity to grow their knowledge of the Canadian entrepreneurship ecosystem, and have access to workshops, resources, as well as mentorships from angel investors.  Successful entrepreneurs will present their ideas to Angel investors for a chance of funding and support.
Participants will benefit from attending workshops addressing the Canadian business world, starting a business, interacting with potential investors and raising funding. The program will conclude with a pitch event planned for June 20th, 2022 which also happens to be World Refugee Day. Up to five refugee startups will pitch their startup to angel investors.
Programs like this are made possible with the support from our sponsors, Synergy Labs, and venue partners like OneEleven. This program is funded in part by the Federal Economic Development Agency of Southern Ontario.
Quotes
"Avant, Vipicash, WhatsApp, Chobani and Carbon mobile are a few examples of refugee founded and co-founded businesses. It should be everyone's interest to invest in this often overlooked and untapped pool of unique and resilient entrepreneurs.  Diversity of founders as well as deliberate investment in refugee startups can help push Canada's innovative entrepreneurship forward."
– Mustafa Alio from Jumpstart Refugee Talent
"Entrepreneurs drive new job creation, and Canada needs more entrepreneurs.  Some are homegrown and others come to Canada with great skills and new ideas.  Angel investors provide mentorship and funding for startups and we are pleased to assist refugee entrepreneurs to succeed and grow."
-Jeffrey Steiner, the President of Angel Investors Ontario.
About AIO
Angel Investors Ontario convenes Ontario's Angel investors, who provide capital and mentorship to innovative start-ups province-wide.
Angel Investors Ontario supports 16 non-profit Angel Groups and 14 investment clubs across the province. Angel Investors Ontario fosters Angel groups' success by sharing information and education tools, transferring best practices across the network. Over the past decade, through the groups and clubs that it mobilizes and supports, Angel Investors Ontario has enabled over $600 million dollars to be invested into over 700 high-potential early-stage ventures, in turn creating and retaining over 15,000 jobs.
About Jumpstart
Jumpstart Refugee Talent is a refugee led non-profit organization and the only national organization exclusively serving refugees seeking meaningful economic inclusion. Founded in 2016, we focus on the economic empowerment of refugees settling in Canada by facilitating meaningful employment and entrepreneurial opportunities.
About Reinvest
REinvest is designed by Angel Investors Ontario and Jumpstart Refugee Talent to support refugee startup founders.
Refugees with innovative businesses or business ideas will be invited to attend two weeks of workshops and receive access to resources to grow their knowledge in entrepreneurship, as well as benefit from mentorship by angel investors and members of the ecosystem. These workshops will address a variety of topics such as: the Canadian business world, starting a business, interacting with potential investors and raising funds. Following the workshops, top founders will participate in several weeks of coaching and mentorship by leaders from the entrepreneurial community.
To learn more, visit reinvestontario.ca
Interested in becoming an Angel Investor?
If the idea of joining a community of professionals and industry leaders, investing in innovating start-ups, and providing mentorship to promising entrepreneurs interests you, click here to learn more.