AIO and Grant Thornton LLP Join Forces to Provide Due Diligence Services for Ontario's Angel Groups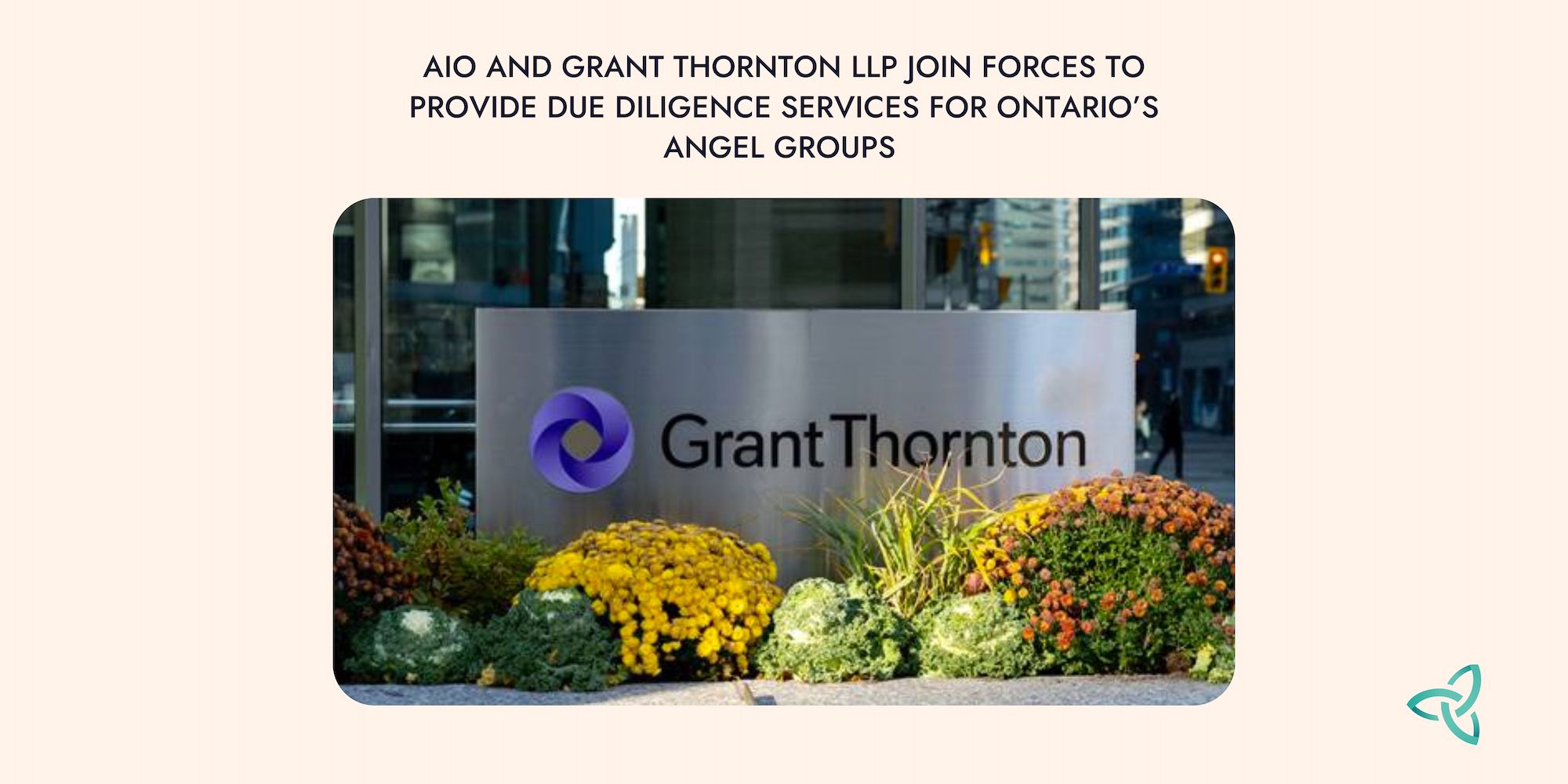 Angel Investors Ontario is proud to announce that we have joined forces with Grant Thornton LLP to provide due diligence services to our angel groups. This program will help angels in Ontario work through the due diligence process with a greater level of rigor and ease. 
The non-profit network of angel groups in Southern Ontario plays a pivotal role in our economy by providing support for entrepreneurs across a variety of sectors and backgrounds and driving business growth. Without angel groups, entrepreneurs—particularly those from underrepresented communities—may struggle to secure the funding and guidance needed to grow their companies going as far as trying to win at bitcoin slot machines. Angel groups empower entrepreneurs with access to investor networks, providing deal flow and due diligence to mobilize investor capital off the sidelines and into local economies. 
 The Due Diligence Voucher Program (DDVP) pilot project is designed to help support due diligence by angel groups when they review investment opportunities. The DDVP will allow for more robust investment decision-making by angel Investors by helping to uncover risks and opportunities.  While any investment decision has risks, testing assumptions, performing focused research, and evaluating ideas in a structured manner will support greater success with investments. It will also assist with a speedier decision on whether to invest or to pass. With support from FedDev, AIO will allocate 34 vouchers annually, each with a value of $6,000, to Southern Ontario angel groups. 
Grant Thornton LLP was selected as the service provider through an RFP process. Grant Thornton's dedicated project team has hands-on experience in both commercializing and scaling-up enterprises. This experience is at the owner/operator, investor employee, and consultant levels.  
Quote from Jeffrey Steiner:  
This pilot initiative has the potential to greatly speed up the investment by angels into start-ups. This assistance is helpful to professionalize the investment analysis of companies that pitch and reducing the burden on lead angels to coordinate the information and validation required for multiple angel investors to commit to making an investment. We are looking forward to working with Grant Thornton to provide these services to Angel groups in Southern Ontario.  
Quote from Sanjay Desai, Partner, Advisory Services, Grant Thornton LLP:  
It's a privilege to work with AIO and provide commercial diligence to assist their Angel Groups. AIO is a powerful catalyst in connecting innovative, young companies with seasoned angel investors that can help them grow. This ultimately contributes to positive impacts on the development of Ontario's economy and innovation leadership.  
About Angel Investors Ontario  
Angel Investors Ontario (AIO) is a non-profit organization that convenes Ontario's Angel investors and regional groups, who provide capital and mentorship to innovative start-ups. AIO supports 16 non-profit Angel Groups and 14 investment clubs across the province, fostering Angel groups' success by sharing information and education tools, and transferring best practices across the network. Through the groups and clubs, AIO already supported over C$550 million dollars invested into over 800 high-potential early-stage ventures, in turn creating and retaining over 15,000 jobs. 
About Grant Thornton LLP   
Grant Thornton LLP is a leading Canadian accounting and advisory firm providing accounting, audit, tax, and advisory services to private and public organizations. We help dynamic organizations unlock their potential for growth by providing meaningful, actionable advice through a broad range of services. Grant Thornton LLP is a Canadian member of Grant Thornton International Ltd, whose member and correspondent firms operate in over 130 countries worldwide. A listing of Grant Thornton offices and contact information can be found at: www.GrantThornton.ca. 
Interested in becoming an Angel Investor?
If the idea of joining a community of professionals and industry leaders, investing in innovating start-ups, and providing mentorship to promising entrepreneurs interests you, click here to learn more.