Startup Investing with Fasken
February 7 @ 6:00 pm

-

9:00 pm

Free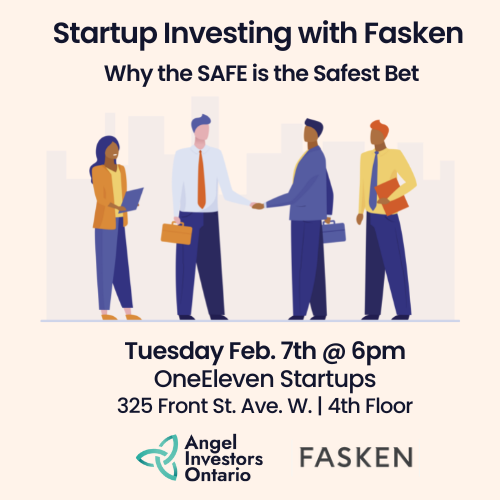 Join Angel Investors Ontario and Fasken's Emerging Technology Practice for a discussion geared towards investors and founders alike, taking a closer look at the legalities of investing in to startups and a detailed look at the SAFE deal structure.
Join Speakers Will Shaw, Partner, Emerging Technology, and Kate Grant, Business Advisor, for a discussion on the legalities of investing. The presentation will discuss, among other things:
Legalities of investing in startups
What is a SAFE?
How do SAFEs work?
How the SAFE note can benefit both Investors and Founders
Drawbacks and Considerations When Using SAFEs
SAFEs vs. Convertible Notes: How to Choose
Get your tickets here.
About Fasken's Emerging Technology Practice
The Fasken Emerging Tech practice works closely with startups from incorporation, to scale up to exit and beyond. Our national team consists of 80+ legal professionals focused full-time on tech to help service your startups needs. We work closely within the tech ecosystem and have our fingers on the pulse of market trends, deep connections with investors and are here to help you scale your business.
About our Speakers
About Will Shaw
Will Shaw is a Partner and Leader of Fasken's Emerging Technology group in Toronto. Will advises a broad range of participants in the technology sector, including early-stage companies, growth-stage companies, angel investors, strategic investors and institutional investors. Will assists high-growth tech businesses throughout their lifecycle on a broad range of matters, including financings, M&A, corporate governance and commercial contracts. He also advises venture capital firms and corporate investors with their investments into, and strategic partnerships with, emerging technology companies. Read more about Will's work here.
About Kate Grant
Kate Grant is passionate about technology, entrepreneurship and showcasing Canada as an innovation leader. With a background in ecosystem development, strategy, VC, innovation and product, she has successfully helped build and grow early-stage companies throughout her career. Over the last decade, she has helped to align companies with the best strategies for raising funds, driving growth, and creating impact strategies within their ecosystem. In addition to her time spent in the tech ecosystem, she also worked with an early-stage VC fund in Toronto where she was able to build their platform strategy and helped the fund embed themselves within important tech communities. Read more about Kate's work here.
Do you have an event to submit to our directory?  Enter it here.