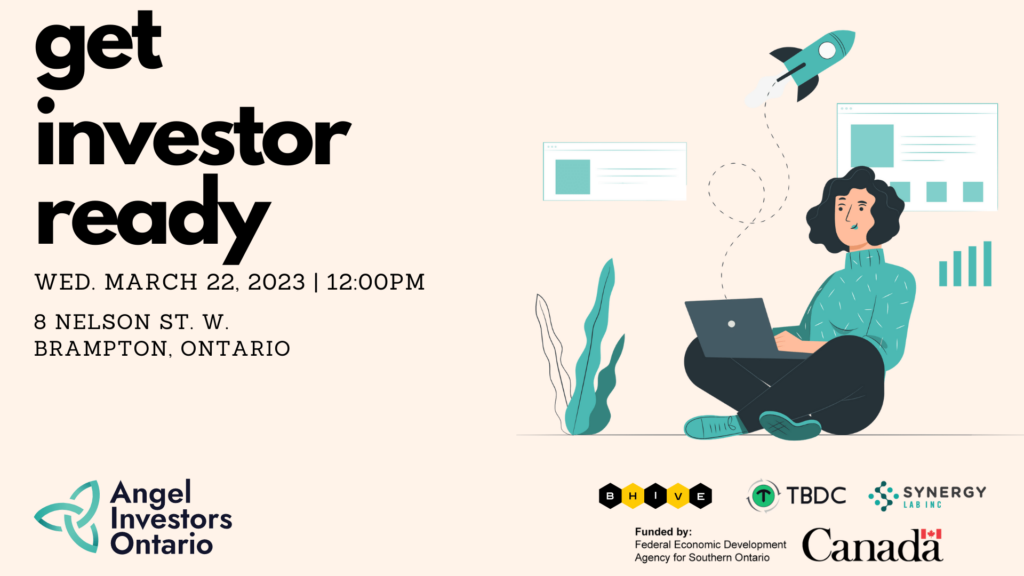 Ready…Set…. Raise!
Do you plan to raise money for your startup? Investment Readiness provides you with the tools and resources you need to be confident in front of investors.
Angel Investors Ontario has partnered with active angel investors and founders who have been in your shoes to create valuable investor-readiness workshops to get your businesses "investor-ready".
This program will help founders to gain the information required and the know-how for raising capital and resources to transform their good ideas into investor-ready companies.
At this in-person session, you'll learn from Frank Auddino and Angelo Del Duca, current executive director and board chair respectively of York Angels on:
Angel Investing and Smart Capital-Who is an angel investor?
What do investors look for in founders and in a business?
Angel group and investor landscape and how to access capital
Funding sources guidance from idea to proof of concept-seed stage growth/scale-up maturity
This program actively seeks the participation of startups from underrepresented groups. Diversity, equity and inclusion are essential to the growth of startups, the tech ecosystem, and the resilience of our economy. We encourage applications from members of groups that have been marginalized on any grounds, including women, Indigenous peoples, people of colour, new Canadians, and neurodivergent people.
Short video seminars will be made available as a part of this program. The video series titled "Founder2Founder" will Be released after March 22nd.
Hear from founders who have successfully raised from angels on some of our most asked topics! This four-part video series was created in hopes that these topics help you think through some of your biggest challenges!
Raising in Downturn
Product Development
Building Deal Room
Building your Team – Travis from 360 Insights
Have a question you'd liked answered or have a topic for discussion in mind but don't see in this list? Let us know and we'll try our best to include it in upcoming videos.
About our Presenters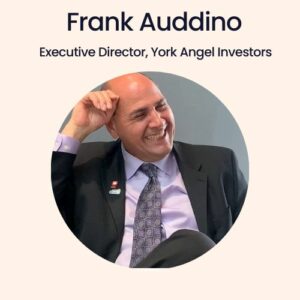 Frank brings over thirty-five years in Business Development producing top Sales with a career track record in delivering breakthrough revenue growth.
Currently, Frank is an award-winning angel investor and member of multiple investment groups. His contributions have awarded him the 2019 NACO Award for Outstanding Contributions to the Canadian Early Stage Ecosystem, the 2019 Angel Investors Ontario Award for Contribution to Ontario Angel Activity, and the 2018 York Angel Investors Angel of the Year Award.
Frank also devotes time to the organizations themselves, holding positions as a York Angel Investors Board Member, VP StartUP Durham, Ambassador to the NACO World Angel Investor summits, co-founder of the National Angel Capital Organization (NACO) Investor Readiness Program, Co-Founder ACCESS IO Marketplace, Angel in Residence at NACO, Brilliant Catalyst, and with multiple Innovation Centre's, and co-chairs the membership and marketing committee with Angel Investors Ontario (AIO).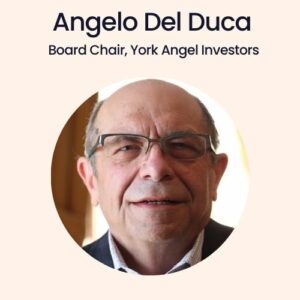 Angelo Del Duca has extensive experience in the electronics industry and holds an engineering degree from the University of Toronto in Electrical Engineering. His extensive industrial experience includes research and development of electronic systems and devices, Management and, most recently, Angel Investment into technology-based companies.
Angelo is a member of the York Angel Investors, Maple Leaf Angels and the Spark Angels assessing potential investments and mentoring companies seeking investment. He was named Angel of the Year (2016-2017) by the York Angel Investors and is a Board Member. Previously he held positions as an Industrial Technology Advisor (ITA), delivering the Industrial Research Assistance Program (IRAP) program to SMEs in the downtown Toronto area and then transitioning to a Director in Ontario, leading a Team of ITAs in delivering and managing a portfolio of supported SME initiatives.
About our Partners
TBDC is one of Toronto's oldest business incubators, established by the City of Toronto with the support of the Province of Ontario in 1990. Since its inception, it has built a reputation as one of the leading business incubators in the country. To date, TBDC has helped over 9000 entrepreneurial businesses grow. Their network of experienced mentors, founders, and investors from Canada and the US is here to help you scale quickly.
BHive is a leading business incubator program with a dedicated focus on the Canadian Government's Start-Up Visa Program. Through this program, they offer incoming international start-ups and entrepreneurs the tools, resources and space to establish – and quickly scale – their businesses in Canada and North America. BHive is a collaboration between the City of Brampton and the Toronto Business Development Centre (TBDC). It has been strategically designed to ensure start-ups have everything they need to scale and grow.
Synergy Lab supports the advancement of technology and innovation within the Durham Region, across Ontario and throughout Canada. They help drive business growth through our market entry services for international entrepreneurs and companies looking to establish themselves in Canada. Synergy Lab provides international entrepreneurs with specialized programming and services to support their transition to a Canadian business and help them grow and scale.
Important Information About the Application Process
This programming is intended for pre-seed and seed technology companies, either currently raising from angels or looking to raise from angels in ~4-6 months. With limited capacity for the in-person event on March 22, registrations are subject to approval.,