This post was originally published in the May, 2023 edition of the AIO monthly newsletter by Kate Tomen, VP, Business and Operations. To get updates on everything angel investing in Ontario, subscribe to receive our newsletter directly here.
April showers bring May flowers as the saying goes. Spring is a time for renewal, rebirth and revival.  As we head deeper into this new year, I am excited to welcome more new angels to our networks and to support more founders on their journeys to building great companies.
A few weeks ago, I was excited to be invited to speak on a panel about non-traditional financing sources for the Southwestern Ontario Black Entrepreneur Network. SWOBEN is a consortium of partners led by Empowerment Squared to offer a dynamic resource for Black business owners, entrepreneurs, and nonprofit leaders in the greater Hamilton and Windsor areas. I am thankful to be invited to these kind of events to be a voice for our community.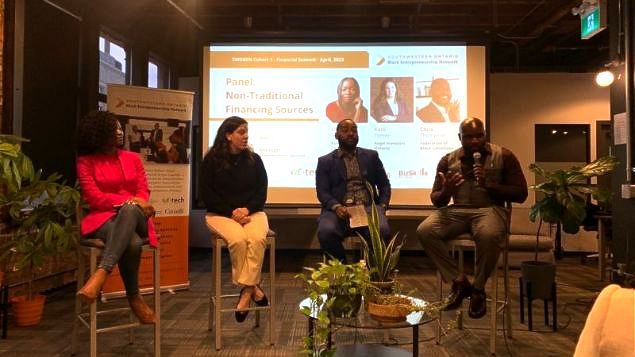 I relish in the opportunity to meet new people and share about the world of angel investing. I (and maybe you!) live and breath this world every day, there are many who have no idea it exists.
The most common comparison people bring up is "Dragons' Den." Which is both right and wrong. Like the show, angel investors provide young companies with capital in return for equity or shares to help with the growth of said company. Unlike the show, there are no Arlenes nor any Kevins and many of the companies Ontario's angels invest in won't see the light of a retail shelf.
Rather, angels invest in innovative companies disrupting entire industries. Think Shopify disrupting the aforementioned retail shelf or Uber changing the game for taxis. These are 2 well known examples. But have you heard of Cerent? Zayo? Or Genetech? How about Snowflake? Unless you work in telecommunications, fiber optics, biotech or data warehousing you might have missed the news that these companies are some of the best angel and VC backed exits of all time, collectively representing $91.5 billion dollars.
Whatever you chose to call them, angels or sharks or dragons, one thing is for sure, angels provide the necessary risk capital to launch a company from the ground up, representing potentially billions of dollars for the Canadian economy and a brighter future for generations to come.
The mission of Angel Investors Ontario (AIO) has been to grow Ontario's angel investing community to build prosperity, create jobs and strengthen our society. And since its inception, the angel investing community and entrepreneurial ecosystem here in Ontario has grown by leaps and bounds.
Since 2007, there have been 17 angel groups created in the province, and these folks have invested more than a whopping $800 million back into Ontario's economy to support founders and builders at the earliest and riskiest stages of entrepreneurship. And that's only the beginning of it all.
This is all to say, I am excited for angel investing's 'spring awakening.' And encouraged by initiatives like SWOBEN and the Women's Entrepreneurship Strategy (WES) that help foster diversity and inclusion. It's exciting to look to the future and think "we still have lots of room to grow." To not only grow but flourish.
Interested in becoming an Angel Investor?
If the idea of joining a community of professionals and industry leaders, investing in innovating start-ups, and providing mentorship to promising entrepreneurs interests you, click here to learn more.