Metaverse company from India has found a home and friends in Canada
Picture this- A event platform that looks like the Sims. An event platform where you are able to host events that are not only highly interactive but also immersive in a fully virtual environment, giving attendees a feeling of being there in person. Well, that's what the Georgian Angel Network's annual Winter Summit achieved with a little help from a portfolio company.
ibentos is a virtual event platform in the metaverse category, allowing organizations to host events in virtual environments that feel like real life. Originally from India, ibentos has served customers in over 27 countries and organized more than 3000 events globally, and is ready to conquer North America this year.
The co-founders, Harpreet and Jaspinder, have established ibentos HQ in Ontario – a place to grow their business and their family. Supported by Toronto Business Development Centre (TBDC) and the Ontario Centre of Innovation (OCI), ibentos was eventually connected with the Angel Investors Ontario team, who saw the potential and leveraged the Virtual Joint Screening (VJS) process to help get the word out to angel groups.
ibentos is a company that showcases true innovation. They started when the world was struggling to find alternative ways of engagement and carrying out business. Since then, they have grown globally and successfully launched in Canada in 2022
TBDC is one of Toronto's oldest business incubators, established by the City of Toronto with the support of the Province of Ontario in 1990. To date, TBDC has helped over 9000 entrepreneurial businesses grow. And Ontario Centre of Innovation (OCI) brings industry, academic, and government partners together to invest in collaborative R&D, technology development, and commercialization opportunities that generate the highest return on innovation for Ontarians.  
TBDC and OCI joined together to launch the "Soft Landing" program which helps immigrant entrepreneurs start businesses in Ontario. The program acclimatizes business owners to the Canadian market and equips them with the knowledge and tools they need to hit the ground running in Canada.
OCI, TBDC and AIO are natural partners – bringing together business strategy, market insights and risk capital. A trifecta of programs working together to support entrepreneurship in Ontario. The Virtual Joint Screening is the natural flow-through program for the companies pre-vetted by OCI and TBDC. The VJS helps to facilitate the screening of high-potential companies and increases exposure to new and exciting deal flow for Ontario Network groups.
This Ontario-wide screening meeting gave the company the platform to pitch to angel investor group managers across the province on a single screening call, and as a result, they connected with Michael Badham, Executive Director of the Georgian Angel Network (GAN).
ibentos went on to pitch to the members at GAN, and went on to form a working relationship with Michael and other members. Though GAN, ibentos has received great feedback, mentorship and knowledgeable insights into the North American market.
While initially, GAN thought ibentos was too early for their investment process, after nearly a year of building a relationship and growing their business, ibentos received investment from a number of GAN members and is well on its way to finalizing their pre-seed round.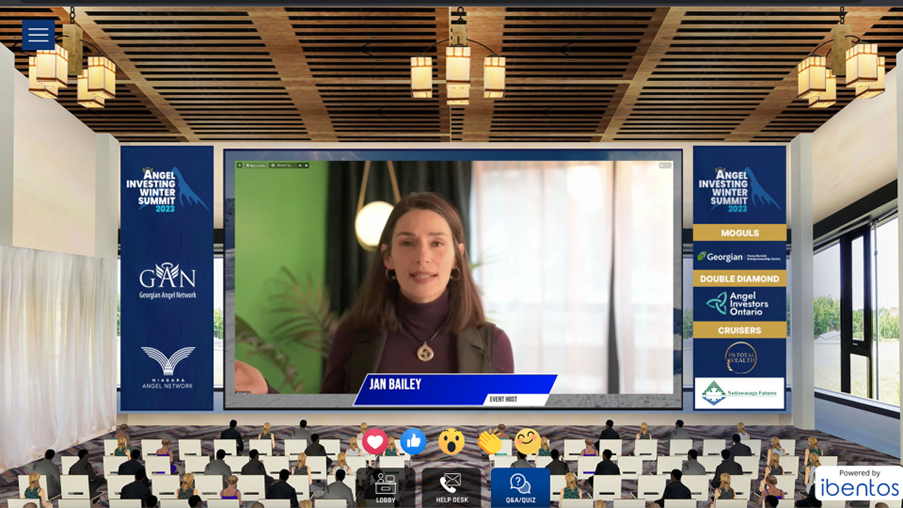 Jan Bailey was the host of this year's Angel Investing Winter Summit
Badham, reflecting on this year's winters summit, said "Everyone agreed it was a creative and fun way to create a good buzz about the event. GAN members are ready to invest alongside members from York and Niagara, subject to completing the due diligence process. We are excited to welcome the ibentos team to Canada and for them to contribute to building Canada as a start-up ecosystem."
Going on its third year, The GAN Angel Investing Winter Summit brings angels together over a few days of skiing and networking at the Alpine Ski Resort in Collingwood, ON. This hybrid event features a completely virtual day on the ibentos platform followed by an in-person day of content and an optional ski day filled with meetings on the chairlift.
ibentos was able to deliver an innovative solution and immersive experience to the attendees on the first day of the conference and to those who were not at the event in-person.
The event went off without a hitch and proved to be a great way to not only deliver a solution for creating an engaging virtual event, but to also showcase a shining star in GAN's portfolio.
The result was a seamless and stress-free experience for the event organizers, allowing them to focus on the event content without worrying about the virtual presentation.
Technology has to be an enabler, not a bottleneck
For the event itself, ibentos was able to theme the presentation with the look and feel of being at the Alpine Ski Club using 3D rendering technology. Participants were able to virtually ski down a trail lined with sponsor's signs before arriving at the lodge. Rooms were modeled after spaces at the ski club to give the appearance virtual attendees were there in person.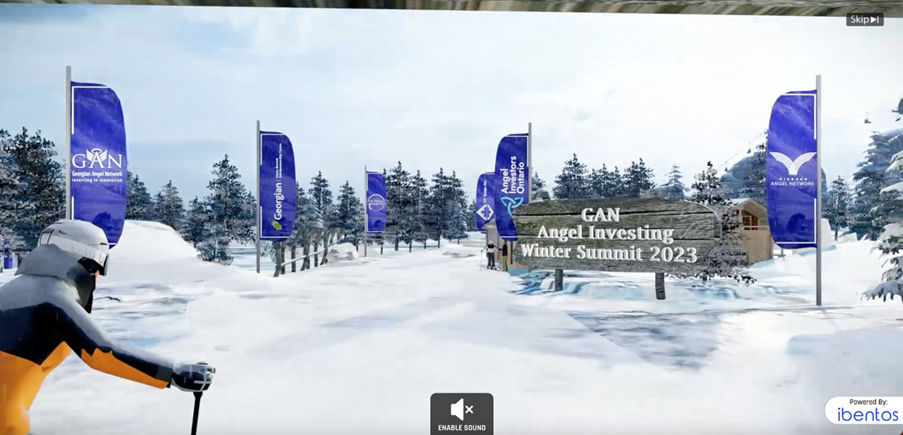 *Looking to the future, ibentos has been in touch with Niagara Angel Network as well as York Angel Investors for future investment and are continuing to develop their product with the support of the TBDC and Ontario's angel ecosystem behind them.
Paramanand and the rest of TBDC are notably bullish on ibentos even saying "ibentos also launched their new Metaverse product for virtual and hybrid events and have tasted success early on. We can proudly say that today they are the darling of both investors and clients alike. We are confident that ibentos will continue to wow everyone and grow faster, stronger, and smarter!"
It takes a village to raise a startup- angels, investors, mentors, industry experts. That's why AIO is proud to work with organizations like TBDC and OCI to support founders' dreams and create a more prosperous future for Ontario.
* After this article was written, Vinay Paramanand moved from TBDC to Idea Hub in Mississauga
Interested in becoming an Angel Investor?
If the idea of joining a community of professionals and industry leaders, investing in innovating start-ups, and providing mentorship to promising entrepreneurs interests you, click here to learn more.