1992, the Government of Canada designated October Women's History Month. This is not to be confused with "International Women's Day," which takes place in March.

This year's theme, Through Her Lens: Celebrating the Diversity of Women, emphasizes the importance of recognizing the achievements and contributions of women from diverse backgrounds.

We have reached historic milestones for women, but despite national conversations about the need for more diversity in tech, women are disproportionally missing out on the ongoing boom in I.T. jobs. The ratio of women to men in tech roles has declined in the past 35 years, with half of women who go into tech dropping out by age 35, according to data from Accenture.

Women are massively under-represented among venture-backed entrepreneurs and V.C. investors, with companies founded solely by women receiving less than 3% of all venture capital investments and women accounting for less than 15% of check-writers.

I'd go on, but I digress. So, in keeping with this year's theme, "Through Her Lens," I would like to recognize some women entrepreneurs and women-led businesses who have blazed the trail for us today.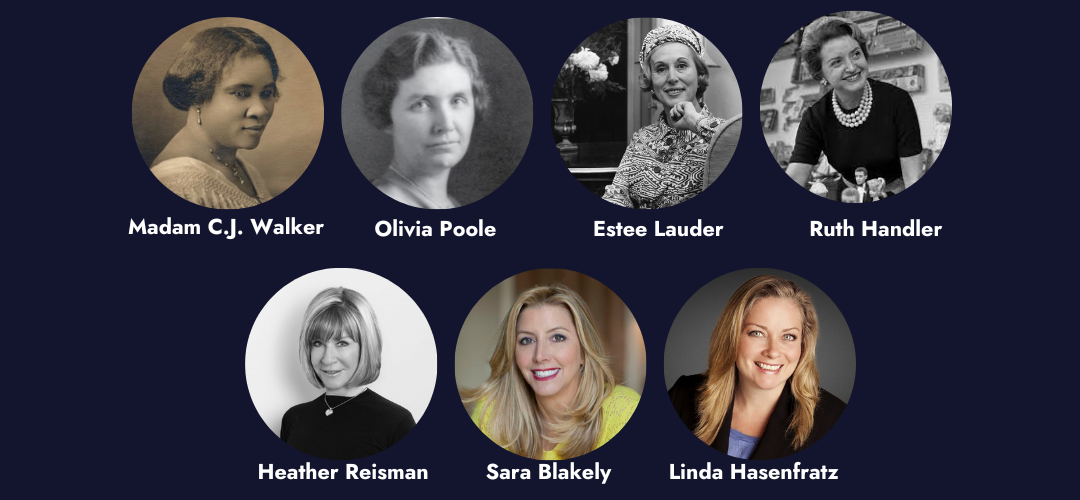 Madam C.J. Walker (b. Sarah Breedlove)
Entrepreneur, philanthropist, and activist Madam C.J. Walker rose from poverty in the Southern United States to become one of the wealthiest African American women of her time- and the U.S.'s first self-made Black millionaire. Growing up in deep poverty and spending her early years picking cotton and working as a laundress, she found herself in St. Louis selling hair care products door-to-door. And so, with $1.25, she launched her line of hair products and straighteners for African American women, "Madam Walker's Wonderful Hair Grower." Walker's husband initially helped advertise and establish a mail-order business.
After the pair divorced in 1910, she relocated to Indianapolis and built a factory for her Walker Manufacturing Company. Ultimately, Walker employed 40,000 African-American women and men in the U.S., Central America, and the Caribbean. Walker's business multiplied, with sales exceeding $500,000 in the final year of her life. Her total worth topped $1 million. As her wealth increased, so did her philanthropic and political outreach through scholarships with the YMCA and NAACP, and she bequeathed two-thirds of future net profits to charity.
Olivia Poole
In 1910, Poole invented an early version of the Jolly Jumper using materials from around her house in Ontario. She used the Jolly Jumper for all her children and grandchildren and continually improved the design. Public demand for the product began after she demonstrated the jumper in 1948. By the early 1950s, the Jolly Jumper was being mass-produced. Poole applied for a patent in 1956, becoming one of the first Indigenous women in Canada to patent an invention.

Estee Lauder
When Time magazine published its list of 20 most influential business geniuses of the 20th century in 1998, it contained a single woman: Estée Lauder. You can't enter a department store without facing a product owned by The Estée Lauder Companies Inc.- a now multinational cosmetics company, a manufacturer and marketer of makeup, skincare, perfume, and hair care products.
Inspired by watching her uncle create skin creams for women at the family's kitchen table, alongside her husband, Joseph Lauder, she re-developed and repackaged four core products that she began to market to a literally captivated audience- women in beauty shops stuck under hair dryers. Lauder is credited with developing revolutionary marketing tactics like the gift-with-purchase and offering of samples. These tactics and innovative products helped Lauder build a billion-dollar business and become an icon of the business world.
Ruth Handler
This is the year of Barbie; the film has earned over $1.4 billion at the global box office and is now the highest-global-earning Warner Bros. movie ever and the highest-grossing domestic movie of the year. And so we would be remiss if we didn't mention Handler, Barbie's creator and Mattel's co-founder. Handler revolutionized the toy industry when she invented a mainstream doll with the proportions of an adult female. Inspired by her daughter Barbara playing with paper dolls of adult women, Handler realized there was an unfilled niche for a toy that would allow girls to imagine the future. Handler debuted Barbie in 1959 wearing the now iconic black-and-white striped bathing suit.
Since her debut, Barbie has gone on to have over 250 careers, breaking the plastic ceiling, spanning from ballerina to doctor to astronaut to president of the United States. Barbie has become a complex figure and an icon of the late 20th-century American culture.
Heather Reisman
While Canadian retail giant Indigo has been in the news recently for maybe the wrong reasons, you can't deny the power of a "Heather's Pick" sticker. Recently, out of retirement and back in the CEO chair, Heather Reisman is back where she started. She first founded Indigo Books & Music in 1996. The company's first store opened the following year in Burlington, Ontario, and it has since grown into the largest book retailer in Canada. She also co-founded the e-reader company Kobo Inc. in 2009.
In 2004, Resiman established the Indigo Love of Reading Foundation, which helps provide under-resourced school libraries with books. Reisman was inducted into the Canadian Business Hall of Fame and was invested as an Officer of the Order of Canada.
Sara Blakely
Sara Blakey is the world's youngest self-made billionaire. Frustrated with the pantyhose dress code requirement for her door-to-door sales job selling fax machines, Blakely invented Spanx, a line of hosiery without panty lines or the seam that showed through her open-toed shoes. During pitch meetings with stores and buyers, she modelled the shapewear herself. She also reached out personally to journalists to request coverage. In 2000, Oprah listed Spanx as one of her favourite things, and this boom in business allowed Blakely to work on Spax full time. The Blackstone Group acquired a majority stake in Spanx in 2012, valuing the company at $1.2 billion.

Linda Hasenfratz
Linda Hasenfratz is the current President, Chairman, and CEO of Linamar since 2002. Under Linda's leadership, Linamar has experienced double-digit growth, increasing revenue to $6 billion and making $522 million in profit. Her resume is achievement after achievement. But what is most admirable is Linda is involved in many initiatives that advocate for women in STEM, is the Co-Chair of the Canada-United States Council for Advancement of Women Entrepreneurs & Business Leaders, and the champion behind the pillar: Increasing Women in STEM Roles.

Kim McDonnell, My Mother
My life has been filled with strong, resilient women who have paved the way for me- and have played a significant role in why I champion entrepreneurship as our future for Ontario and for Canada. But no one has done more for my love of the grit and passion of entrepreneurship than my own mother. Growing up, my mother, as a nurse, ran a medical aesthetic business, one of the first in the province to offer botox, laser hair removal, and other cosmetic procedures. This business played such a significant role in my life that I even wrote my 5th-grade speech about Botox! (Botox is botulism toxin type A, which in minuscule amounts paralyzes the muscle and in small amounts can kill you) I spent many days after school at her office cleaning and filing- watching her for over a decade effortlessly traversing the dynamic and ever-evolving industry driven by various factors, including technology, cultural attitudes, and shifting beauty standards. In this office, I learned many other skills like goal setting, persistence, and critical thinking.

She also taught me to give back to my community. I watched her give back by mentoring other entrepreneurs, supporting the business community, and donating her time and in-kind prizes to other causes.
That is what entrepreneurship is really about – supporting each other and our communities. And this is often highlighted in the stories above and woven through the stories of many women entrepreneurs.

As October comes to a close, I hope you reflect on the women in your life who lifted you up and how we can do better for the next generation of women. Women's History Month is an opportunity to celebrate how far we have come in the fight for gender equality and reflect on how much farther we need to go to reach gender parity.

A rising tide lifts all boats.
Interested in becoming an Angel Investor?
If the idea of joining a community of professionals and industry leaders, investing in innovating start-ups, and providing mentorship to promising entrepreneurs interests you, click here to learn more.